Travel in Istanbul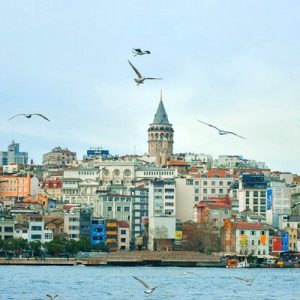 1. For a trip to Istanbul to be more comfortable and more budgetary, you need to take care of your accommodation in advance, as well as about air tickets, preferably in a month or two. As a rule, decent and affordable housing dismantled long before the start of the season. The best in quality and location apartments are occupied almost year-round.
2. If you book in advance, then it is likely that plans may change, so choose accommodation with free cancellation options. You can use the popular Booking.com if you are more interested in hotels, or Airbnb if you want to rent an apartment or apartment.
3. From inexpensive hotels I can recommend the Troy Hotel near Taksim Square and Istiklal Street. The hotel is good, because it is located in a good area, has a rooftop restaurant with an overview of the city and a humane price tag for accommodation. In general, there are two hotels in Troy in Istanbul, one of which is located in a little-known district of Balat. If you prefer apartments or apartments, there is a chance to get into a disadvantaged area. Therefore, in this case, the choice of place of residence must be approached more carefully.
4. Take a closer look at the description – something that is quite cheap, can only be a room without amenities. Check the list of household appliances, the presence of a bathroom.
5. It's more difficult to choose an area if you haven't been in Istanbul, it's practically unreal. A good area can change to a "bad" literally after 100 m, and then again change to a good one. As they said in a famous film, Istanbul is a city of contrasts)) So, if you are going there for the first time, it is better to choose a hotel. And when you look at the city, study a little, then next time you can pick up apartments.
6. Choose housing with a large number of reviews, new objects without reviews – this is a risk, it is unclear what kind of owner is there and whether it is not a hoax.
7. Contact your host and clarify important points for you, for example, where does the balcony go, is there a microwave and does it work))
8. When you arrive in Istanbul, it is sometimes difficult to find a place to live, for example, Google maps had to be removed and the Yandex cards were put in much more detail and more accurate. Download offline maps in advance. By the way, to show the address on a piece of paper to local residents can not solve the problem. We looked for apartments, local people made a helpless gesture and could not tell when we showed the address, while they were 300 meters away, as it turned out later))) As a result, we called the owner and he found us and led away))
9. From here one more thing – take care of the connection in advance, so that you can call the owner. On wi-fi do not expect. In hotels and apartments there, in public places not everywhere. You can set up roaming, and you can buy a local SIM.
Before traveling by public transport, purchase the Istambul Card immediately, it is valid for travel in various types of metro, tram, city buses and boats plying between the European and Asian parts of the city. The card gives a tangible discount on travel of almost 50%, costs 6 Lire, and it is necessary to immediately put a deposit on it, from which the fare will be written off. The card can be purchased one for the entire company, just put a sufficient amount of an approximate calculation of 3 Lira per trip. You can always find out the balance during the passage of the turnstile, the amount on your card will be indicated and how much it will be charged for the passage. Do not put a large amount on the card, because if you don't roll it out, you won't be able to return the amount from the card, there is no such operation in principle, otherwise how will the city earn? Either you have to keep it as a souvenir or try to sell it to new arrivals, indicating at the terminal where they buy their cards.
Ships that run between the European and Asian part go every 10 minutes. And until 22 o'clock in the evening, there are several routes that differ in ports of departure and arrival, from which port and where to go to you to choose. Take a map of the city in the hotel, and in any port you can poke at the map, show where and where you need to go, and they will prompt you.