Greece – a fairy tale realized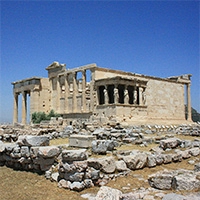 Ancient Athens with its world-famous Acropolis and the Temple of Olympian Zeus make an unforgettable impression even on a previously prepared traveler. Want to relax beautifully and with luxury? Athens is the place where the heritage of ancestors and modern high-class service intertwined in a bizarre combination.
Not sure how to get to Athens? Nothing could be simpler – S7 Airlines, a member of the oneworld® global aviation alliance, opened regular flights from Moscow to the capital of Greece. The new country in the S7 Airlines route network will provide passengers with even more opportunities to travel to Europe. Flights are carried out from April 27, 2013 with a frequency of twice a week – on Wednesdays and Saturdays. Departure from Moscow Domodedovo Airport at 09:10, arrival in Athens at 11:45 local time. The return flight departs at 12:35 and arrives in Moscow at 17:10. Flights are operated on modern Airbus A319 liners, designed to carry 128 passengers in economic and business class cabins.
S7 Airlines is known today among tourists, first of all, for the convenience of flights and pleasant service on comfortable Airbus and Boeing.
When you finally get off the plane, you fall into the realm of the sun and the sea. Beautiful hotels, unforgettable excursions and harmonious rest – all this is included in the programs of the largest tour operator Mouzenidis Travel, specializing in Greece. By the way, this tour operator works on the all-inclusive program – service, reasonable prices and guarantees of a wonderful holiday. The company, which exists since 1995, includes 14 offices in the most popular places of Greece and more than 50 regional branches in Russia. Today at Mouzenidis Travel, everything is organized for the best rest of the clients: its own hotel base, bus depot, sightseeing and thematic tours, VIP services, health tourism and much more. The most important thing is that you will feel calm and protected from any surprises, as in this company they simply do not exist.
Among the variety of hotels offered to tourists by Mouzenidis Travel, the proud Grand Resort Lagonissi 5 * stands apart. This place is the best for those who decided to take a break from the bustle of the city and fully enjoy all kinds of SPA-procedures. Its cozy bungalows are located along the coast on a private peninsula 40 km from Athens, and they attract with their solitude and exquisite simplicity – next to each there is a small pool and a cozy space full of living nature. For those who do not need privacy, accommodation is offered in the main building of the hotel overlooking the sea – this may be, for example, a suite with its own gym or a luxury room for lovers.
For true gourmets, Grand Resort Lagonissi 5 * offers a truly feast of taste. What would you say, for example, about the best dishes of Italian cuisine or about the exotics of the Cretan diet? Past your attention will not pass the most delicious Greek dishes and various variations of seafood.
The possibilities of SPA-procedures in this hotel are endless: you can talk a lot about modern technology and natural cosmetics, but one thing really makes a strong impression: when a person leaves this hotel rejuvenated for at least a dozen years. It is difficult to say how such an effect is achieved – only if a luxurious SPA, or an unforgettable atmosphere, or a magical sea and a velvety beach stretching for several kilometers … a city that has left its mark on the centuries. For example, it is impossible to ignore Sounion – the eastern outpost of Athens. This cape is a sacred place for the Greeks and is the goal of visiting many tourists. There is a legend that the gods of antiquity – Athena and Poseidon could not share this piece of land, and together they occupied it in the eternal confrontation of cults. Only the famous Temple of Poseidon withstood the test of time, and the sanctuary of beautiful Athena over the centuries turned into ruins.
In the shade of olive trees, not far from the temple of Poseidon, is located the luxurious resort Grecotel Cape Sunio 5 *, terracotta villas and bungalows that are ready to bestow comfort and quality rest on you. You will love the exquisite Mediterranean cuisine, which, for all its simplicity, can surprise even the most critical gourmets. You can pamper your body in the Elixir SPA center, although there is a more active pastime – sea travel, tennis, diving and much more.
Sounion is, of course, only a small part of the entire cultural heritage, and a sightseeing tour of Athens will help you get to know the rest. The Acropolis of Athens, which you will most likely visit among the first sights, stands in the center of Athens – this is an ancient part of the city, fortifications of which began to be erected in the classical period. The rocky hill 156 meters high is now included in the UNESCO World Heritage.